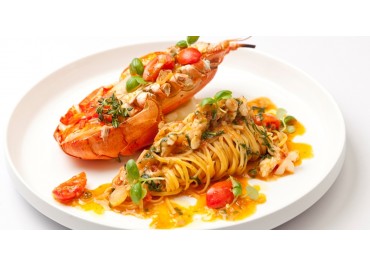 Tagliatelle Pasta with Lobster and Salmon Dice
Ingredients:-
Tagliatelle pasta ball

Salmon portion (Dice)

Lobster tail meat

Carrot peices

Zucchini

Bell pepper

Tomato

Cauliflower

Broccoli

Tomato Sauce

Ginger finely chopped

Garlic finely chopped

White onion

Orange slices
Method:-
Cut all the vegetables and sauté it in hot water

Clean and cut the whole lobster, carefully remove the lobster tail and cut the lobster tail meat into small fine pieces

In a casserole, add water and salt. Boil the tagliatelle pasta ball until al dente (firm to the bite)

Take a new pan, add finely chopped ginger, garlic and white onion.

Add lobster tail meat pieces and cook for 5 minutes, add chicken stock followed by orange juice to it.

Add specially made Parsely sauce to Lobster tail meat

Take butter in a new pan and add the sauté vegetable to it.

After cooking for some time add tomato sauce.

Now add the tagliatelle pasta to the vegetable and mix properly.

Season the salmon dice with salt and pepper and cook it on a pan with olive oil.
Platting:-
On a plate put the tagliatelle pasta

Put the lobster meat on top, arrange the salmon dices on sides of the plate.

Toss up orange wedges and herb leaves as garnish.