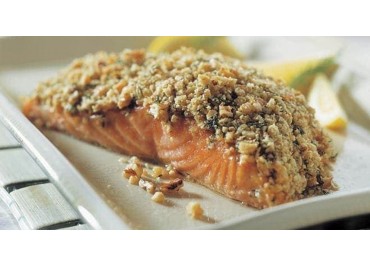 Salmon with Crunchy Walnut
Ingredients:-
Salmon Fillet Portion

White Cabbage strips

Ginger finely chopped

Garlic chopped

White Onion dices

Snow Peas

Baby Raddish

Walnut

Salt & Pepper
Method:-
Put Olive Oil on a Pan

Add finely chopped ginger and garlic to the pan

Add white onion dices

Now add white cabbage and sauté it

Mix till properly caramelised. Add chicken stock to it.

Cook till the stock is reduced, and then add white cream and cook it. Add salt and pepper and fresh parsley.

Roast Walnut on a new pan

Season the salmon fillet with salt and pepper and then cook it on low flame on a pan with olive oil.

Add butter to new pan and cook the snow peas. Add salt and pepper.
Platting:-
Make a bed of cabbage with cream sauce.

Arrange the cooked Salmon fillet on it and top it up with Baby radish, snow peas and roasted walnut.