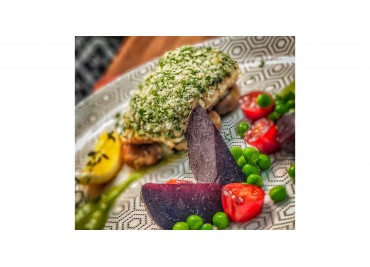 Crusted Royal Hamour with green peas purée and glazed beets
A)Crusted Royal Hamour
Step 1 – Marination and Preparation of the Royal Hamour
Ingredients:
Royal Hamour Skinless fillet portion 220 g

Pink salt 2 g

Black pepper 1 g

Fresh thyme

Garlic 2

Olive oil 10 ml
Method:
Marinate the Fish Fillet portion with the above ingredients for 1 hour ..

On hot pan cook each side for like 2 min. adding 15 g butter.

Finish in the oven 170 C for like 7 min.

Once is cooked check with a thermometer the center temperature should be above 75 C. which is a perfect cook

Fish is ready to apply the Crusting.
Step 2 - Prepare the Crust
Crusting Ingredients:
Panko bread crumb 30 g

Chopper Parsley 20 g
Method
Mix the panko and the parsley gently

Add on top of the fish fillet and set aside
B)Green peas purée
Preparation of the green peas purée
Ingredients:
Green peas 160 g

Milk 160 ml

Butter

Pink salt

Pepper

Butter 20 g

Fresh thyme 1 g
Method:
Make sure the green peas are defrosted already.

Boiled up the milk, green peas, and butter, salt, pepper for like 13 min.

Blend the mixture till you have found and smooth puree.

Pass it through fine sieve

Check and adjust the taste (Salt and pepper is okay)

Set a side for the platting
C)Glazed beets
Preparation of the Glazed beets
Ingredients:
Cherry tomato 20 g

Roasted Beetroot 30 g

Thyme 1 g

Olive oil 20 ml

Balsamic Vinegar 10 ml

Pink Salt 1 g

Pepper 1 g
Method:
Marinate the beetroot with salt pepper, olive oil, and fresh thyme.

Cover with aluminum foil individually.

Roosted in the preheated oven for like 30-40 min depends on the size of the beets, 170C temperature.

Once the beets ready peel them off and cut them into small pieces.

In a small pan glaze the beets cheers tomatoes with balsamic vinegar and thyme