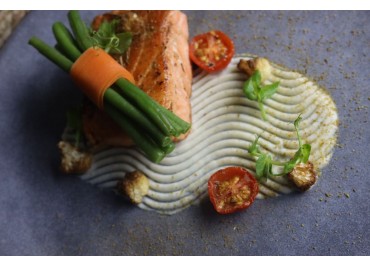 Pan-Seared Salmon With Cauliflower Puree
Pan-Seared Salmon
Ingredients:
· Salmon Fresh
· Salt
· Pepper
· Rosemary
· Theme
· Olive Oil
Cauliflower Puree
Ingredients:
· Cauliflower 200 g
· Milk 250 Ml
· Salt 2g
· White pepper 2 g
· Onion white 10 g
· Garlic 3
Steamed Green Beans For Garnish
Ingredients:
· Fried Mini Cauliflower
· Cherry Tomatoes
· Microgreens
Method:-
Marinate the salmon with salt, pepper and herbs Heat the pan and cook each side for 3 min, then finish cooking in the oven for 3 min.
Cut the cauliflower into small pec, spear some for Garnish.
Heat small pan, add olive oil and sautéed onion, garlic, and cauliflower, then add the milk salt, and pepper, wait till the cauliflower mashed.
Blend the mixture till you have a velvety cream texture.
Fry some of the cauliflower for garnish and keep on the side, Green Beans be boiled and should be crunchy.