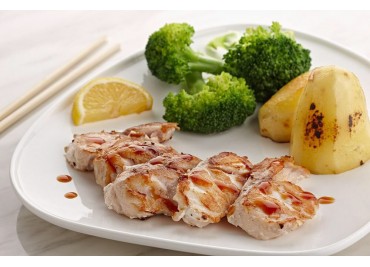 Grilled Hamour With Hebatchi sauce
A ) Hebatchi Sauce
Preparation of Hebatchi sauce
INGREDIENTs
· Mayo
· Rice Vinegar
· Tomato Paste
· Paprika
· Garlic Powder
· Sugar
· Butter
· Salt and Pepper
· Water
INSTRUCTIONS


1. Mix all ingredients together and whisk until well combined.
2. Refrigerate overnight or at least for 8 hours prior to serving
B) Grilled Hamour
INGREDIENTS:

· Hammour fillet portion
· Salt as required
· freshly ground pepper as required
· fresh lemon juice as required
· paste of 4 garlic cloves
· Olive oil
INSTRUCTIONS

1. Marinate the hammour fillet portion with salt, freshly ground pepper, lemon juice & garlic paste. keep aside to rest for an hour.
2. Brush the hammour with olive oil. Grill the fish until ready – depends upon the thickness and heat of the grill,
3. Glaze the grilled hammour fillet with hebatchi sauce