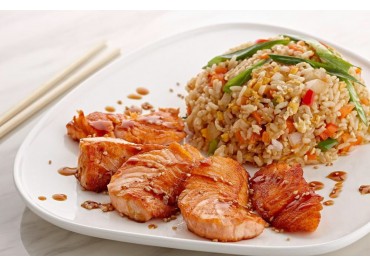 Salmon With Teriyaki Sauce
A ) Teriyaki Sauce
Preparation of Teriyaki Sauce
INGREDIENTs
2tsp sugar

4 slices ginger
INSTRUCTIONS

Place all the ingredients in the same pan. You need to bring the mixture to a boil to dissolve the sugar and thicken the sauce. This sauce for the teriyaki salmon recipe is also suitable for other fish and meat
B) Preparation of Salmon Pan Fry
INGREDIENTS:

Salmon

fillet steak portion

Salt as required

Freshly ground pepper as required

Potato starch/

cornstarch




Olive oil
INSTRUCTIONS

Clean the salmon and pat dry with a kitchen paper towel.

Season both sides with salt and pepper

Sprinkle sufficient cornstarch on the surface, then dust off the excess cornstarch.

Heat some oil in a pan over medium heat. When it is sufficiently hot, place the salmon skin-side down. Reduce the heat to low and pan-fry for about six minutes or until it becomes crispy.

Flip the salmon to pan-fry other sides until no longer pink, about two minutes. Remove and rest at room temperature.

Combine

T

eriyaki Sauce

in a small pan and bring to boil. Remove and set aside.

Clean the pan, heat the sauce to reduce it slightly, then place the salmon in it.

Coat salmon with the sauce. The sauce will thicken and form a glaze on the surface.

Transfer to the serving plate. Garnish with scallion and white sesame seeds.