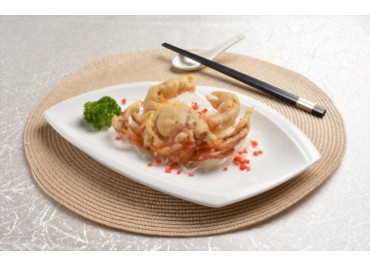 Fried Soft-Shell Crab
Ingredients
· soft-shell crabs
· 1 quart oil for frying, or as needed
· Half cup milk
· 1 egg
· 1 cup all-purpose flour
· salt and pepper to taste
Directions
1. Lift up a pointed side of the top shell of a crab and discard the gills. Lower the shell and repeat on the other side. Remove the tail flap on the lower side by twisting and pulling. Use a pair of scissors to cut behind the eyes and remove the face. Rinse the cleaned crabs thoroughly with cold water, then pat dry with paper towels.
2. Heat oil in deep fryer to 365 degrees F (180 degrees Celsius).
3. Whisk the milk and eggs together in a shallow bowl. In another shallow bowl, combine the flour, salt, and pepper. Season each crab lightly with salt. Dredge in flour, shaking off excess. Dip in beaten egg. Lift up so the excess egg drains back into the bowl. Press into the dough to coat both sides.
4. Working in batches if necessary, carefully lower the crabs into the hot oil and fry until golden brown on one side, 1 to 2 minutes. Carefully turn and cook on the other side until golden brown, 1 to 2 minutes. Drain on paper towels.